We are pleased to announce the newest launch of Talia the Valley. Talia is located in Dubailand, surrounded by natural greenery and just minutes from the city's major attractions. There are three various townhome layouts to choose from, each with a simple and easygoing lifestyle. This is the best spot to find a house for you and your family, with perfect amenities in a desert-themed neighborhood.
Talia The Valley is a new Emaar Properties development in Dubai that offers premium townhouses near Al-Ain Road. With its open-plan living concept and superb facilities, this high-end gated community was designed to satisfy particular requirements.
Homeowners will find it much easier to navigate to key destinations because of the strategic position near Dubai Al Ain Road. Its proximity to main highways allows you to easily access the rest of the city without encountering any major inconveniences.

Talia Townhouses consists of majestic and spectacular units that mix the conveniences of communal living with the chance to live a privileged lifestyle. The developer has concentrated on creating the ideal environment and comfort, as well as all of the necessary materials for living in lavish luxury. It's a lovely alternative that lets you to live in style while still taking advantage of world-class amenities.
Furthermore, the project is being built to fulfil the rising demand for residences. It offers a privileged position in a field that is evaluated alongside the decision of a world citizen, in addition to its own identity and attraction.
The Valley launched in 2019 and has attracted two sub-communities thus far. The Nara townhouses project is in second place, and Talia is on its way to being third. This development, which is located on the outskirts of Dubai, is known as The Valley and is a very famous and opulent region in Dubai.
Talia Key Highlights
There are perfect townhouses to choose from
Excellent facilities and services
Security is provided around the clock
Payment plans that are simple and appealing
Designed with a variety of leisure and amusement areas
Al-Ain Road is where you'll find it
Amenities that are best in class
Design Encourages Collaborative Living
Sikkas of a large size
Pocket Parks are little parks that are located around the city
Nodes of the Town Center and Amenities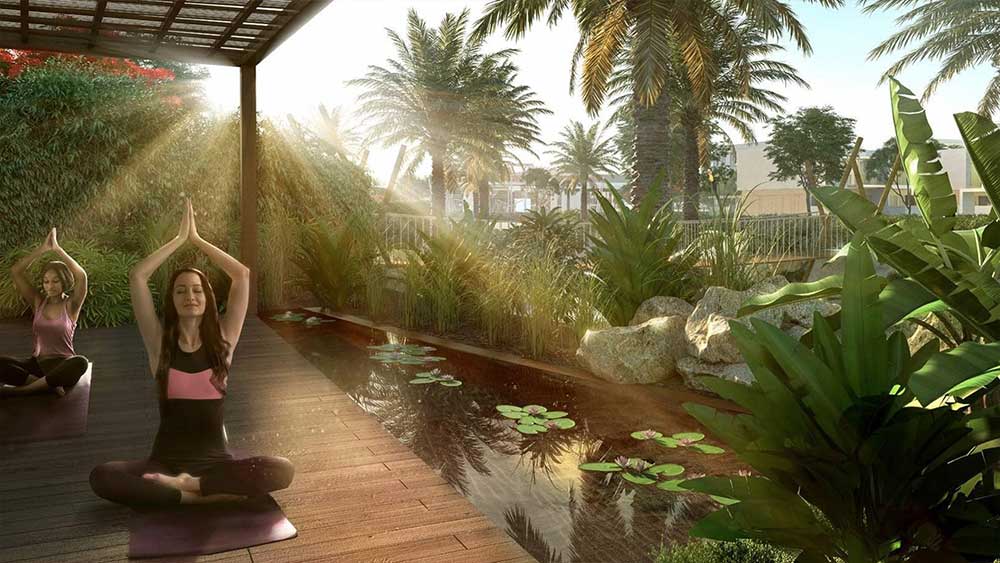 Talia Amenities & Facilities
Emaar Talia Townhouses is genuinely unique, with luxury amenities that encourage an active lifestyle. Residents have access to everything from leisure activities to healthcare facilities right outside their door. From swimming pools to gyms, retail establishments to shopping malls, there's something for everyone. It means you'll have access to every amenity within a few steps. So, let's take a look at some of the most important features and services.
Community Centre
Outdoor Fitness
Gourmet Dining
Farmer's Market
Picnic Area
Zen & Oasis Garden
Bicycle & Running Tracks
Pocket Park
Sports Courts
Rock Climbing
Playground & Outdoor Gym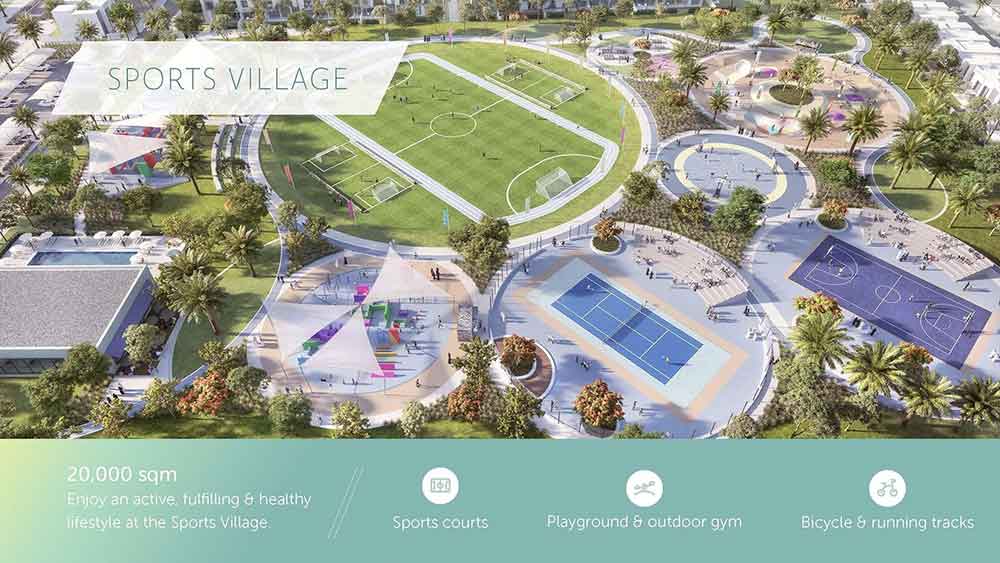 Sanctuary Golden Hub
The Valley is a popular tourist destination with warm sandy beaches, a beachside pool, a large fitness center, and plenty of green space. The TALIA townhouses Dubai are only a short walk away. The Valley residents have access to the following amenities through the Golden hub:
Children's playgrounds
An active lawn
Wet play / Splashpad
sand volleyball courts
Putting green and golf simulation
Shaded picnic areas
sand beach
The wave pool and lagoon with slide
beach hammocks
target gym
Cafeteria
mini-grocery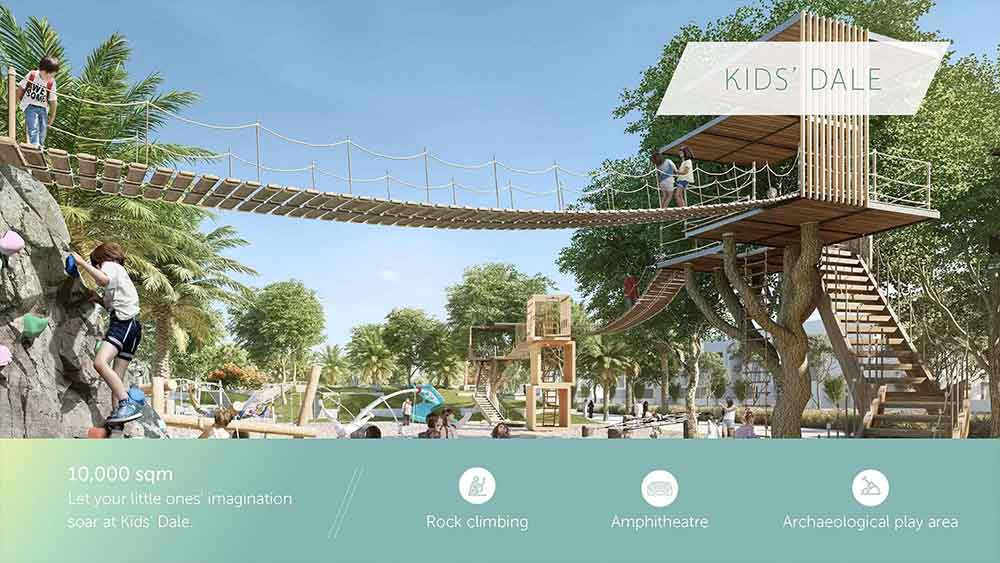 Talia The Valley Townhouses Payment Plan
Talia is Emaar's newest addition to The Valley's premium villas and townhouses, and it's now available to buy with flexible payment plans. Buyers and investors can conveniently reserve Talia townhouses for sale in this immaculate area and take advantage of the community's amenities. Emaar have always thought about their customer's needs. So, here shared payment plan and prices are perfect and reasonable.
| | | |
| --- | --- | --- |
| Installments | Payment | Achievements |
| Easy Installments | 60% | During Construction |
| Final Installment | 40% | On Handover |
60/40 Payment plan
3 to 4 bedroom townhouses
Size range 1862 to 2248 sq. ft.
Estimated completion 2nd quarter of 2025
3BR Price range from AED 1.35 million to AED 1.4 million
4BR Price range from AED 1.699 million to AED 1.7 million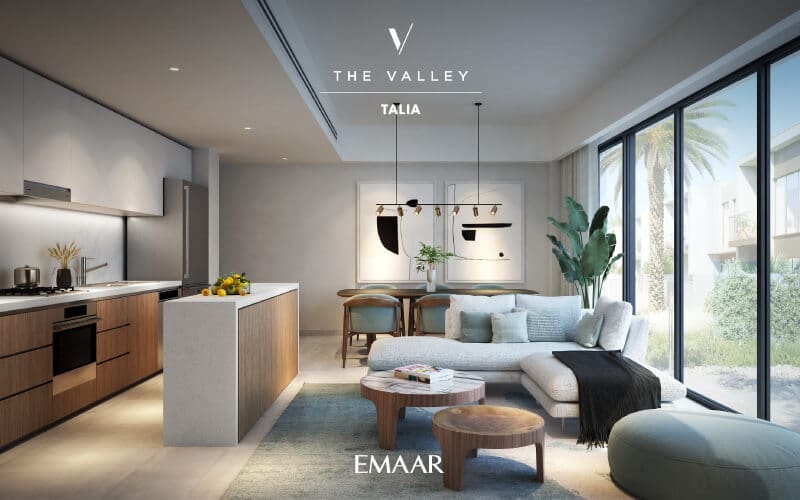 Easy Connectivity to Nearby Places
THE VALLEY is conveniently positioned on the Dubai-Al Ain Road, which serves as a vital link between Dubai and Abu Dhabi, the UAE's two most populous emirates. Your house in Talia is a serene family haven, well linked, and close to everything Dubai has to offer. The new development, which is connected to various significant areas of interest by the main avenue, provides seamless connectivity. While also connecting to a variety of popular attractions from the comfort of your own home. Here, we have accurate statistics about your drive to Dubai's prominent points.
The Dubai Outlet Mall is only 8 minutes away
The Burj Khalifa is 25 minutes away
Dubai International Airport is around 25 minutes away
Dubai Rugby Sevens starts in 05 minutes
Master Plan of Talia Properties
Talia in The Valley of Emaar Properties has created a master-planned community that will redefine the level of luxury living. As a family development, it provides all day-to-day amenities, including superb retailers and ample leisure and entertainment space. It has vast green areas that allow users to connect with nature whilst maintaining privacy and security 24/7. Although, with its long-term investment returns, it is the ideal spot to invest.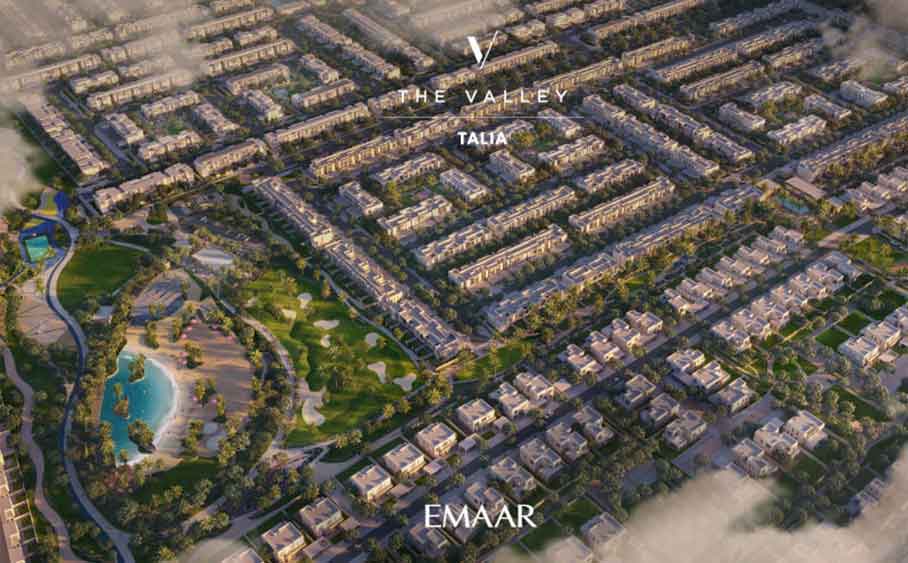 Payment Methods of Talia Townhouses Dubai
You can buy talia townhouses with many payment methods. There are many ways you can get your favorite villa or townhouse here. If you purchase here with our help, we allow you to pay in the following ways. Here are the ways.
Bank Payments
Check
Bitcoins
Hard cash
Online transfer