Emaar Properties revealed the winners of the "Why Dubai Creek Harbour" social media contest on September 16th. As more than 15 companies were participated in this contest and put in their best efforts.
Emaar's Social Media Contest Detail
Emaar announced a contest on social media that began on August 15 and ended up 22nd of august. In this campaign, eighteen companies put their best efforts and successfully presented the campaign's theme through video. The campaign's focus was on why now is the best time to invest in Dubai Creek Harbour, what a great community it is, and what special deals and payment plans are available. All of the top real estate companies performed admirably according to some terms & conditions applied by Emaar. The top seven winners were to be awarded according to the terms of the contest.
Winning Shoot By BINAYAH
Top Winners of Emaar's Social Media Contest
We are pleased to announce this biggest news that your most trusted Binayah Real Estate Dubai has won the first prize of 30k AED in this contest. It has only been possible with the hard work, dedication, struggle, and enthusiasm of our team and is a testament to the fact that we have been able to maintain our top position in Dubai as usual.
The other top winners are;
MEDAIT star real estate at 2nd position with 20k AED prize
3rd position to 7th (each got 10k AED worth prize)
DACHA real estate
SIGNATURE HOMES real estate
D&B Properties
HAUS & HAUS real estate broker
LUXURY AKAR real estate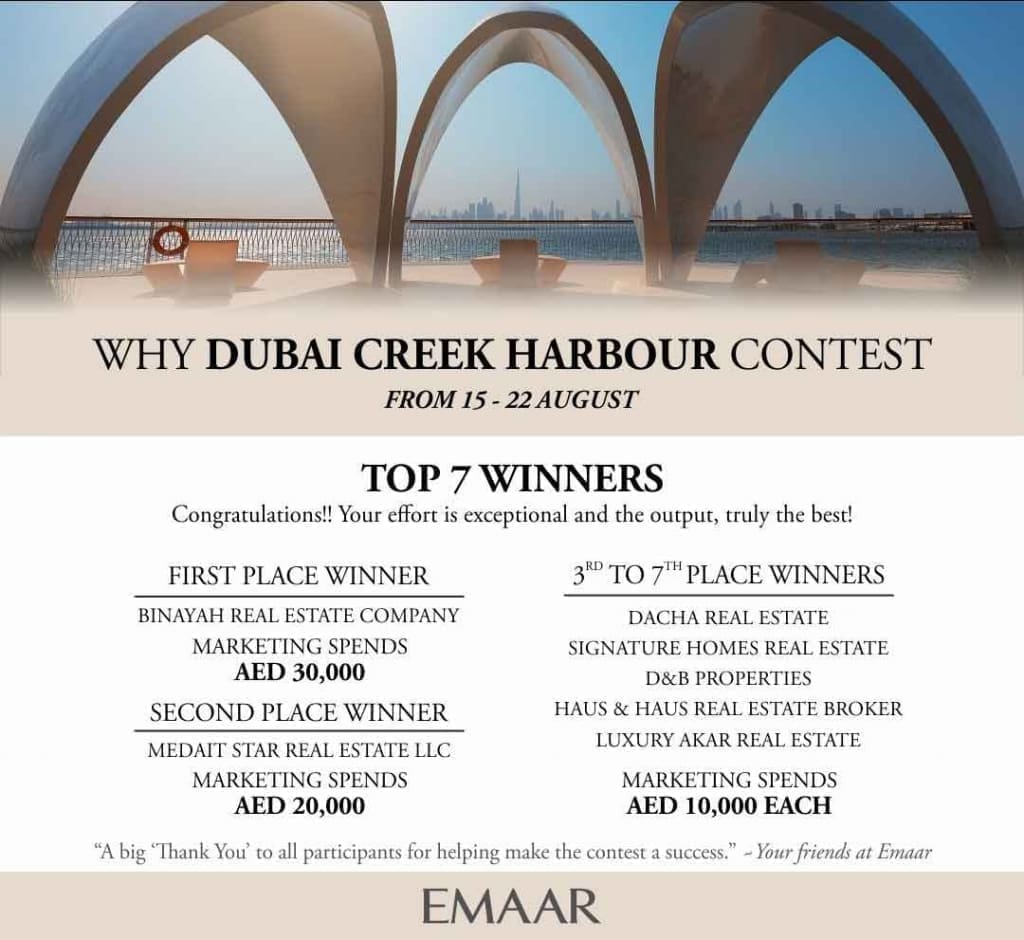 Special Recognition Awards
Special recognition awards were also given to the other participants for their efforts
DRE Homes Real Estate Broker
MJB Properties
Range International Property Investments
Provident Real Estate
Elysian Real Estate Broker
Fidu Property Real Estate Brokerage
Excel Properties
Huaxia Real Estate Broker
Eminence Real Estate
Green Island Real Estate Broker
Concept Development
Other achievements of Binayah Real Estate Brokers
Although this is not our first time winning, we have beaten many other companies in the past and taken home many prestigious awards and prizes along the way. Here are the details.
Damac unity harbour program awards
MEERAS top performing real estate broker award
DAMAC best broker awards 2018
SOBHA realty award of best brokers
DAMAC contest winner of Gold awards and much more
How did we get it?
Another emphatic victory from our team! We are thrilled for making it one of the most memorable achievements in the Real Estate industry. With our company integrity, hard effort, and unbreakable dedication as a foundation we are accomplishing exceptional results.
A heartfelt thank you to our amazing partners for their support and our valued clients who have put their faith in us and helped us get a huge success. Our success is a direct result of the hard work, pride, and dedication we put into shaping the company's core values.
Our strong portfolio
With a combined 30 years of expertise and a start-up of company in 2007, our real estate industry specialists have achieved enduring success in the real estate market. Among the many services we provide to our clients are, brokerage, property management, portfolio management, investment advice, and development consultation.
When it comes to managing properties, Binayah is experienced in working with both residential and commercial property. We give you a lot of easy access to Dubai's most prestigious developments due to our extensive experience and sterling reputation.  Our main goal is the trust of our customers, and we are successful to maintain this trust.