In an economic hub like Dubai, new property developments are emerging every day. Grove apartments Dubai has recently been announced. It will surely be a nightmare for Dubai's lavish properties. There is no room for doubt. Because its developers are Emaar. Emaar is considered to be one of the most successful developers in the world.
What new is Emaar bringing this time? All of Emaar's developments include newness, beautiful lakes, lush greenhouses, and the finest things. Emaar's notable developments include Downtown, Emaar Beachfront, and Arabian ranches. But the question is, what is involved in Grove at Creek Beach Apartments? Let's move on to the article.
Grove Apartments Key Highlights
Luxury beachfront Grove apartments with 1 to 4 bedrooms are available
Security is available 24 hours a day, 7 days a week
A gated community is full of unexpected twists and turns
Excellent facilities and services
Creek Island pedestrian bridge
A beachfront development with an attractive appearance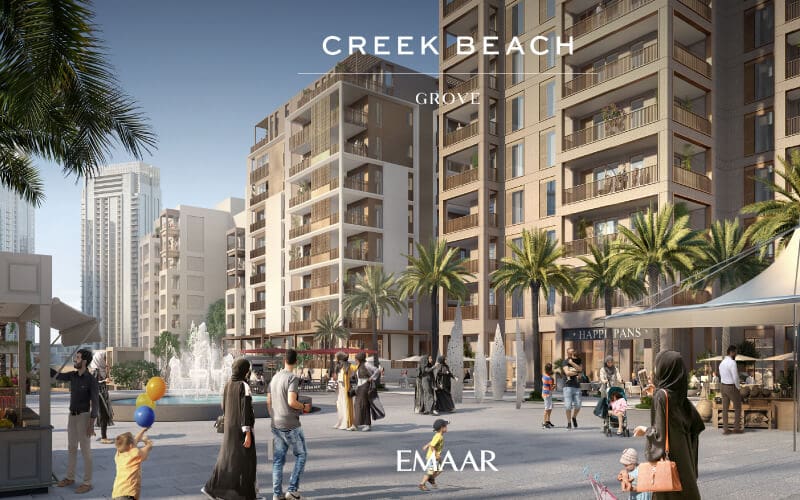 Brief Introduction to Grove Creek Beach Apartments
At Creek Beach Dubai, the newest adventure Grove Creek Beach is unveiled by Emaar Properties. They provide luxurious 1-4 bedroom beachfront apartments with their private beach getaway. Enjoy Dubai's bold and innovative vision, which includes miles of shoreline with cutting-edge architectural design and outstanding quality.
The property provides wonderful views of the stream from its multi-purpose community buildings. While its elegant design and pure combination of art and careful architecture guarantee a monument. Enjoy the numerous advantages of being on the beach, which include breathtaking views of Dubai Creek Marina and immaculate white beaches.
With its golden beach, a destination full of unique adventures, and a boutique Vida hotel, its tranquil and pleasant surroundings give a stress-free living and create amazing memories. Furthermore, you will have access to the beach, outdoor eating at cafes and restaurants, and breathtaking sunset views from boardwalks.
Well Designed Grove Apartments
Grove Apartments Dubai comes with its multifunctional community spaces and wonderful views of the creek. The project promises to be a landmark with its graceful design, which is a pure combination of art and well-planned structure. Take advantage of the many attractions of a beachfront position with spectacular views of Dubai Creek Marina and a white sand beach.
Prices of Grove Apartments
The pricing for the Grove apartments at Creek Beach has yet to be finalized. However, prices are expected to start around AED 1.1 million. Grove at Creek Beach provides homebuyers with flexible and appealing payment plans. If you're interested in investing in Dubai Creek Harbour, now is the greatest moment to do so. You may also take advantage of the upfront payment options offered at the time of purchase, which come with flexible payment periods.
70% during construction
30% on delivery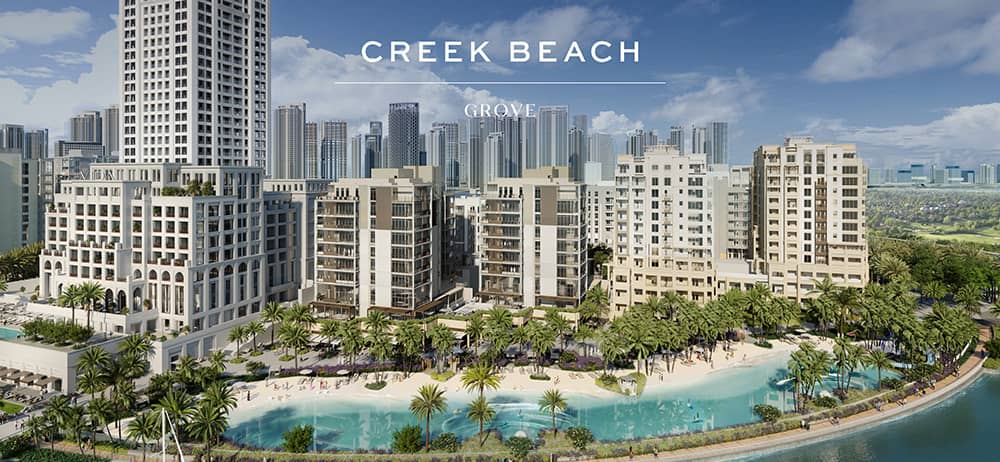 Easy Connectivity to Preeminent Location in Dubai
Grove is part of the Creek Beach District in Dubai Creek Harbour. It is near to the Ras Al Khor Wildlife Reserve and only a few minutes away from the city's main attractions.
Downtown Dubai is around 12 minutes away.
DIFC, Dubai International Airport, Jumeirah – 14 minutes
Dubai Marina is about 24 minutes away.
Palm Jumeirah – 26 minutes
Final Words
By & large we can say Grove Apartments at Dubai Creek Harbour will be a massive impact on residents. So you can also check these stunning Grove Apartments for sale, or visit our site binayah.com for further assistance.