Choosing the right waterfront apartment in Dubai can be a very difficult task. There are many factors to consider when choosing the Waterfront Apartments in Dubai. Such as location, views, size, and price. You might also have questions about what type of facilities you will be able to enjoy. However, many developments are famous for waterfronts in Dubai.
In this blog, we are going to discuss the top Dubai waterfront apartments in Dubai. Let us move on:
Best Waterfront Apartments in Dubai
1.    Emaar Beachfront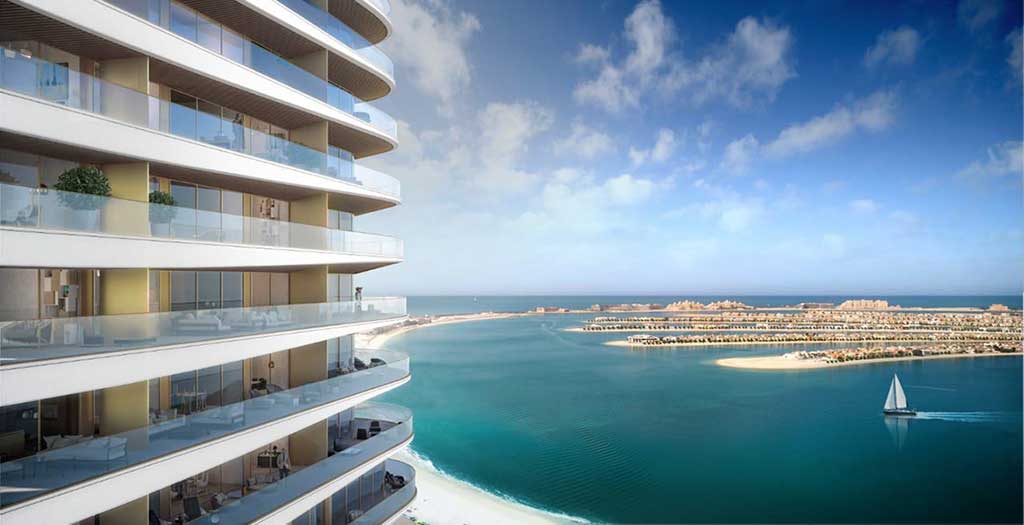 Located between Palm Jumeirah and Jumeirah Beach Residences, Emaar Beachfront is a new development by Emaar Properties. High-end waterfront apartments, located near the Dubai Marina. It features a five-star hotel and a range of premium apartments and villas. It also offers access to a private beach and other recreational facilities.<
The total area of the development is about 10 million square feet, with 27 towers. Each tower has its private beach. The apartments come with high-end facilities, including infinity-edge swimming pools, gyms, and spas. It also offers spectacular sea views.
Emaar Beachfront is also home to a five-star hotel, operated by Address Hotels + Resorts. Its main buildings are Grand Blue Tower, Sunrise Bay Towers, Beach Vista, and South Beach. They offer a range of luxurious apartments, including 1, 2, 3, and 4-bedroom units.
2.    DAMAC Lagoons Dubai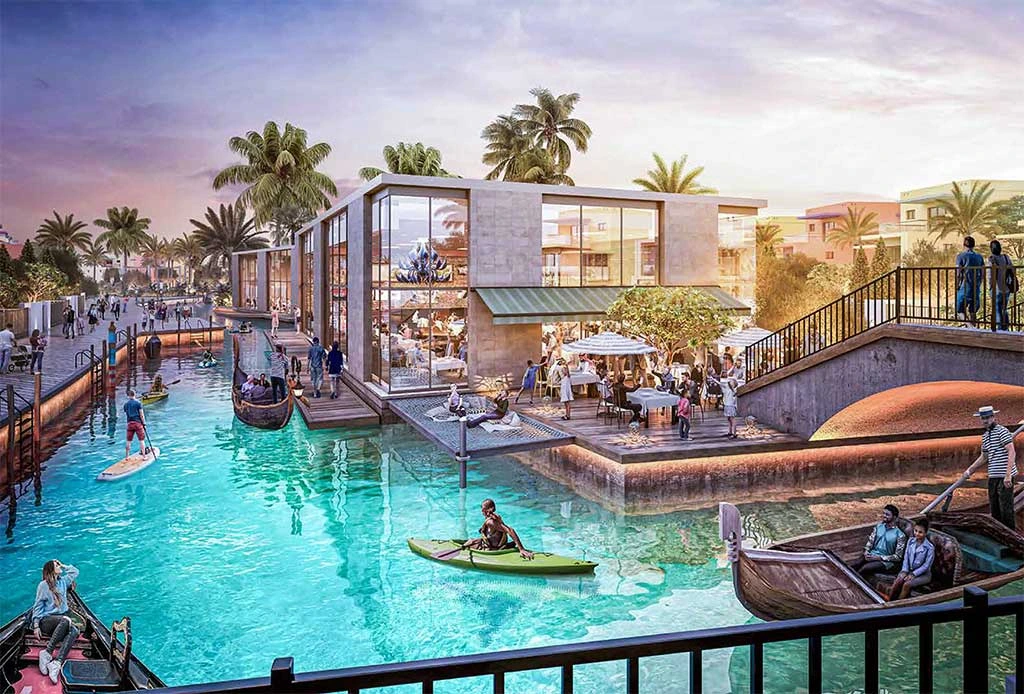 DAMAC Lagoons Dubai waterfront apartments are a new, high-end off-plan community launched by the renowned developer DAMAC Properties. Set on the shores of crystal-clear lagoons, this Mediterranean-inspired, resort-style residence offers residents a unique blend of adventure and relaxation. DAMAC Lagoons Dubai offers a variety of property options in a variety of configurations, including upscale villas and townhouses.
The Lagoon Dubai features a crystal-clear lagoon and white sand beaches that imitate the shorelines of the Mediterranean. A variety of leisure options is available, including waterside cafes, water-based amphitheaters, and water sports. DAMAC Lagoons Dubai Waterfront Apartments also offer residents access to a range of dining options and sports and wellness facilities.
The Lagoons features bespoke villas, townhouses, and apartments with 1- to 6-bedroom configurations. A variety of payment plans is also available to help make your purchase a reality.  The Lagoons offer a Mediterranean resort lifestyle all year round. Residents enjoy access to an array of gourmet restaurants and a range of recreational and wellness facilities.
Lagoons waterfront apartments are connected to many notable landmarks and areas of Dubai. Including the Dubai Festival City, Al Khail Road, and Hessa Street. The property is also close to shopping and entertainment destinations, such as the Mall of Emirates and Business Bay. The community is expected to grow with additional development. DAMAC Lagoons is expected to be completed by the end of 2024.
3.    Ritz Carlton Residences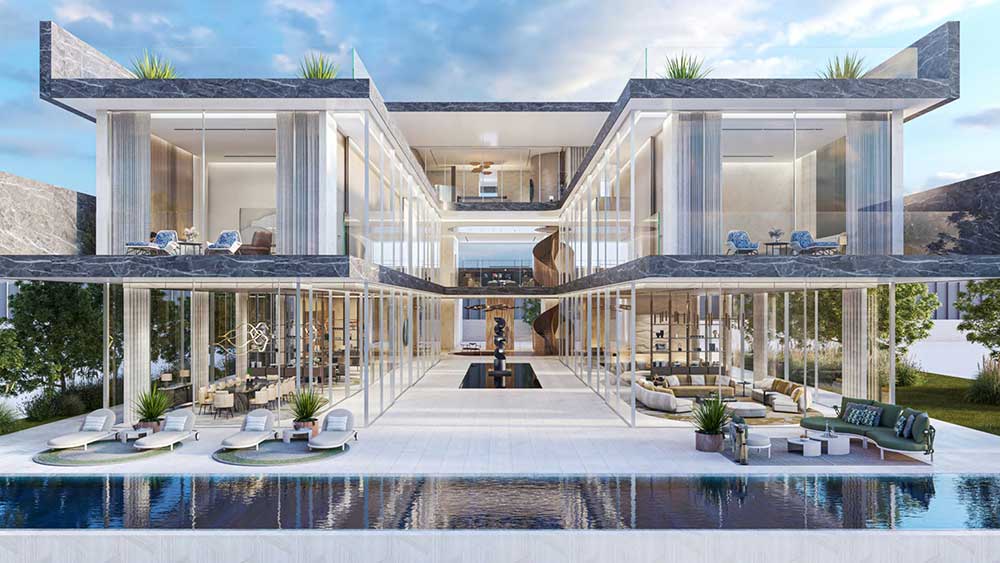 Ritz Carlton Creekside Dubai is a world-famous waterfront apartment complex located in the heart of Dubai. The complex is home to some of the most luxurious and exclusive waterfront apartments in the city. In addition, its stunning views of the Dubai skyline are second to none. Although it is one of the most expensive places to live in Dubai, the Ritz Carlton Creekside Dubai is well worth the price tag.
The complex offers a wide range of amenities and features, including 24-hour concierge service, a state-of-the-art fitness center, and an on-site restaurant. In addition, the Ritz Carlton Creekside Dubai is just a short drive from all of the city's best shopping, dining, and entertainment options. These waterfront apartments in Dubai consist of 2 to 8-bedroom apartments and pensions. These are just for sale purposes. If you are looking for a luxurious and convenient place in Dubai, the Ritz Carlton Creekside Dubai is definitely worth considering.
4.    Address Residences the Bay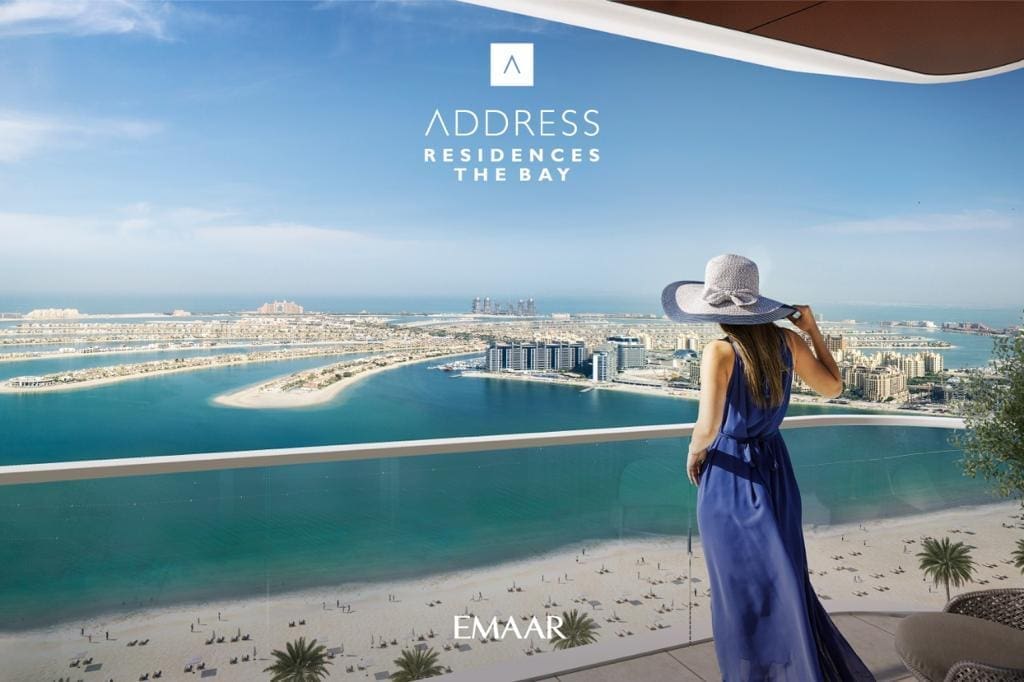 Located on the exclusive coastal area of Emaar Beachfront, Address Residences The Bay is a new ultra-luxury residential project. It will feature luxurious branded apartments and penthouses. With stunning views of the sea, these properties will offer a premium urban island lifestyle. The apartments will come with world-class interiors and amenities.
Residents will also have access to a private beach. They will also be able to enjoy world-class dining, shopping, and recreation facilities. The apartments will also feature spacious balconies with panoramic views of the sea.
5.    AVA at Palm Jumeirah by OMNIYAT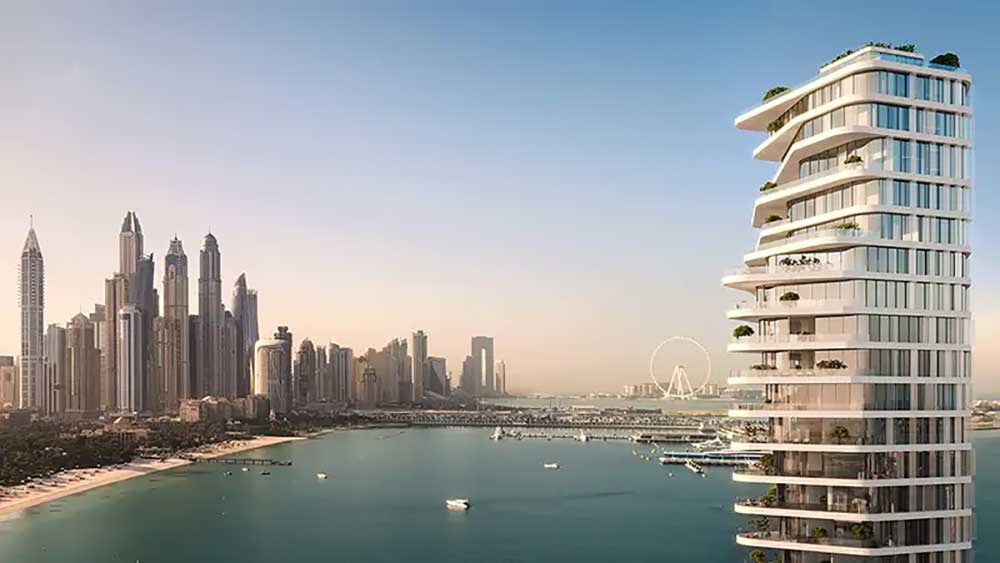 OMNIYAT is a Dubai-based real estate developer that has been in business for over 15 years. The company specializes in construction and luxury residences in the Persian Gulf region. Its properties are placed in prestigious locations.
The company works closely with the most experienced architects and designers in the field to bring residents a bespoke elevated living experience. They have a portfolio of projects including the OMNIYAT Palm Jumeirah, which is set to be one of the most luxurious residences in the Middle East.
The company's AVA at Palm Jumeirah project will consist of 17 private residences with private pools. These ultra-luxury Waterfront Apartments in Dubai will also feature a three-story mega penthouse. This penthouse is the crowning achievement of the AVA building. It will include an atrium with a garden in the sky.
6.    Marina Vista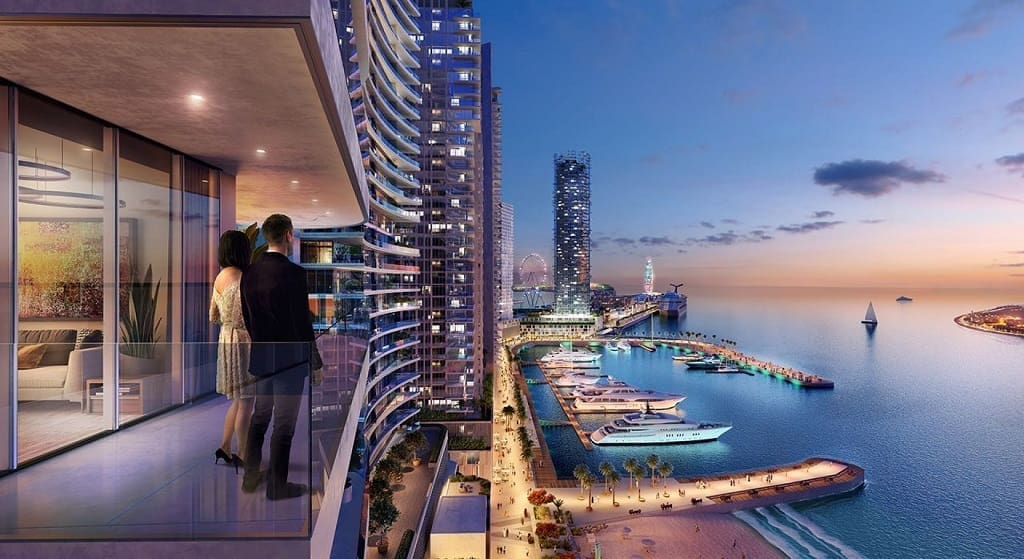 Located in Emaar Beachfront, Dubai, Marina Vista apartments are situated right next to the Arabian Gulf. It offers one to four-bedroom apartments, which are fitted with exceptional finishes. Its modern architecture combines contemporary color schemes to create a beautiful seaside lifestyle. The apartments offer an amazing view of the sea, marina, and Arabian Gulf. Marina Vista also boasts excellent amenities including a swimming pool and fitness center.
The apartments also have high-speed internet, a community garden, and a BBQ area. The community is gated and secured, allowing residents to live in peace. It also has round-the-clock CCTV monitoring. The apartments are a part of a development, which is centrally located and is close to major transport hubs, including the Dubai Marina. It also offers access to restaurants, retail outlets, and five-star hotels.
7.    Grand Bleu Tower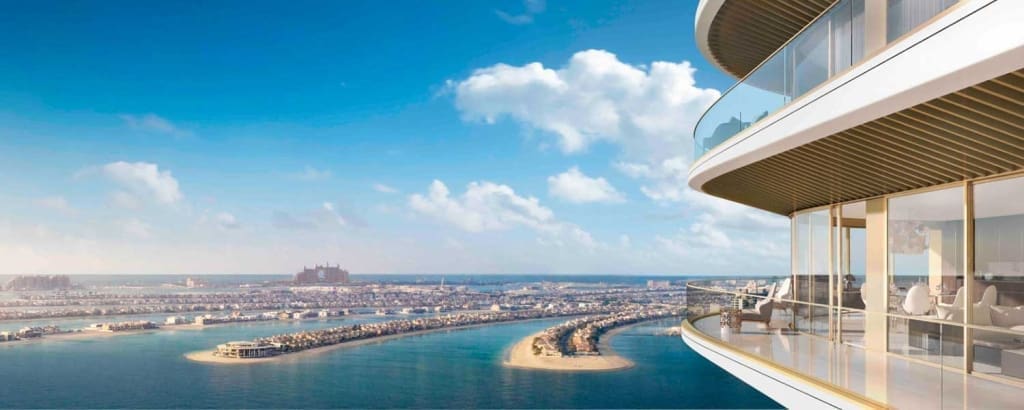 Located on the magnificent beachfront in Dubai, Grand Bleu Tower is a high-rise residential complex. This project is designed by eminent couturier Elie Saab and is built by Emaar Properties.
Grand Bleu Tower offers luxurious residences with the option of 1-bedroom apartments to 4-bedroom penthouses. These waterfront apartments have been designed to reflect the signature style of Elie Saab. They also offer unparalleled amenities and panoramic views of the Arabian Sea.
The apartments in Grand Bleu Tower have an infinity-edge swimming pool that gives residents the feeling of floating. The beachfront community also features 2 neighborhood parks. It is a great place to relax and unwind.
8. W Residences Waterfront Apartments
W Residences Downtown Dubai is part of the W Hotels family. It is designed with a modern concept and offers an unmatched lifestyle. Located within the Business Bay area, this high-rise building has 104 exclusive apartments. They range from one to three bedrooms. Moreover, there are also four-bedroom penthouses available.
Residents of W Residences waterfront apartments Dubai will have access to all the amenities and attractions in the vicinity. For instance, the Burj Khalifa, the Dubai Opera, the Dancing Fountains, and Dubai Mall are all within a few steps of the building. And the most popular entertainment venues are also just a few minutes away.
The exterior of the W Residences Downtown Dubai has curved glass facades, offering a panoramic view of the city. The floor-to-ceiling height of the residences is approximately 10 feet. The fixtures in the apartments are made of the finest materials available. The living rooms are spacious and offer a relaxing atmosphere. The prices of these waterfront residences Dubai start from AED 1.6M.
W Residences waterfront apartments in Dubai features several restaurants and cafes on its ground floor. The tower has a large outdoor pool deck with a spectacular view. A fitness center and a spa are also offered. The apartments are equipped with multiple high-speed elevators.
Conclusion
The above-mentioned Waterfront Apartments in Dubai are the most famous in all terms. Whether you are looking for luxury amenities or facilities, you can get them all at reasonable prices. However, if you cannot buy these do not worry. There are many Dubai Waterfront Apartments available for rent. So, you can choose as per your need. Because available apartments are very reasonable in terms of buying and selling.
Now, it is time to get your desired lagoons Dubai apartment. For further detail, please visit www.binayah.com
Waterfront Projects in Dubai
FAQs About Top Waterfront Apartments
What Are Waterfront Apartments?
Waterfront apartments on an island with a valuation address in Dubai, where the sea greets you every morning and pristine white sand welcomes your home. Awaken your senses with each breath as you redefine your deluxe lifestyle on the waterfront, overlooking the majestic Arabian Sea. All these beauties make the waterfront apartment exclusive to the normal apartments.
How Can I Buy Waterfront Apartments In Dubai?
Buying a waterfront apartment in Dubai is not so difficult. You can just consult Binayah properties Dubai. Their expert real estate agents will get your need and show you all the related waterfront apartments. After your choice, the next process is to set a deal. Therefore, you will have a successful deal and start living a luxurious life.
What Is The Cost Of Waterfront Apartments In Dubai?
Normally, one-bedroom waterfront apartment costs start at AED 1 Million. However, mostly depends on the facilities and amenities you get.
Which Areas Have Waterfront Apartments In Dubai?
Many areas in Dubai consist of waterfront apartments. However, as we mentioned above the best waterfront apartments in Dubai. Emaar beachfront, DAMAC Lagoon, Palm Jumeirah, JBR, and Address Residences the Bay are the most famous.
Which are the Famous Waterfront Apartments in Dubai?
Emaar beachfront, DAMAC Lagoon, Palm Jumeirah, JBR, AVA at Palm Jumeirah by OMNIYAT and Address Residences are the famous waterfront apartments in Dubai.
Can A Foreigner Buy A Waterfront Apartment In Dubai?
In Dubai, freehold areas are eligible for foreign ownership. Foreigners and expatriate residents may purchase unrestricted freehold ownership rights, usufruct rights, or leasehold rights for a period of up to 99 years. Therefore, a foreigner absolutely buys a waterfront apartment in Dubai.