There is a lot to consider when buying property in Dubai if you live in Dubai and are looking for a home, returning to settle down, or investing in buying or renting. To understand how buying a property in Dubai works, you'll need to do some research.
Dubai is a fantastic place to live, and it is becoming increasingly profitable for expats looking to make a profit. Furthermore, expats will not have to worry about their residency status changing at the end of the Brexit transition period, making them even more appealing and secure as a long-term real estate investment. Here are the most important things to think about when buying a home in Dubai as an expat.
Identify why you want to buy Dubai Property
It may seem self-evident, but think about it for a moment. Purchasing an investment property differs from purchasing a home, and knowing what to expect will aid you in making important decisions. You're:
To have your own apartment, should you buy?
Do you want to keep or sell the house in the long run?
Do you live in the facility full-time?
Are you planning to rent out the property to tenants?
Is it real estate investing?
The real estate market in Dubai fluctuates from time to time. Overall, the industry is stable, with consistent rental and resale values. With the increasing number of new developments, however, there are numerous options. If you already live in Dubai, you most likely have a good idea of what kind of property you want to buy. If not, consider which factors are important to you, what services you require, and how many people live with you so that your search can get off to a good start.
Dubai expats have the option of purchasing a home.
In Dubai, there are three types of real estate purchases:
Freehold
Usufruct
Co-ownership
Purchasing property in the UAE is similar to purchasing in the United Kingdom. When you buy a home, it is yours to do with as you please. Although some apartments and other owned houses are available for purchase, the majority of owned properties are houses. If you want to own a home in Dubai, you must purchase from one of the approved developers.
Usufruct is similar to leasing in that it allows you to purchase ownership of an asset for a set number of years, usually up to 100. You can do whatever you want with the asset during usufruct, such as if it was good.
The good reverts to the original seller's property at the end of the lease. This type of property cannot be inherited, and you do not have the authority to demolish it.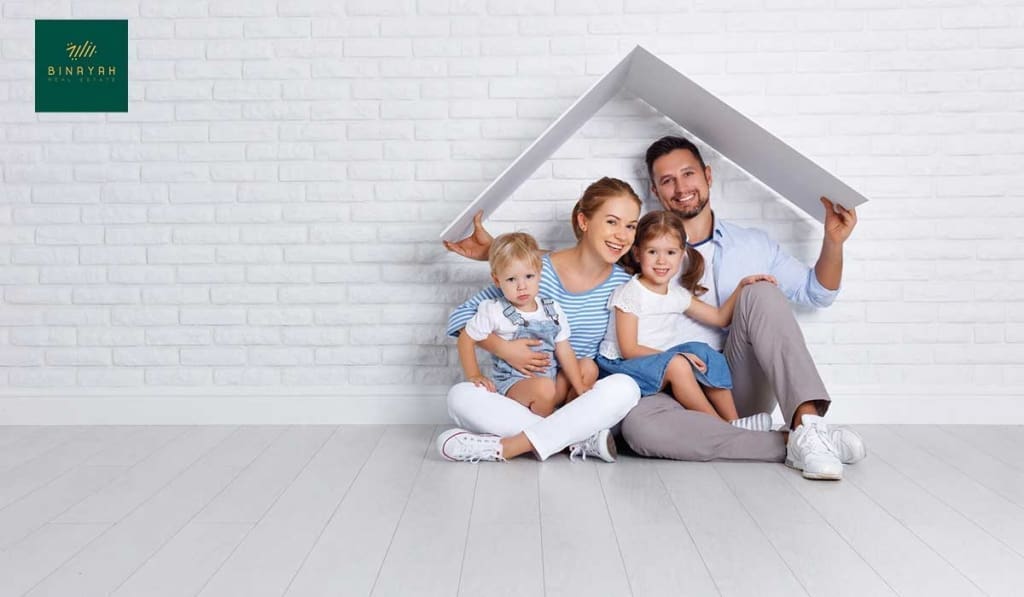 Buying a Dubai property as expats
Condominium is a term that is commonly used to describe apartments. It means that you can buy an apartment but must pay the owner, usually a developer, for maintenance. The building and all common areas are owned by the developer, but you own the apartment. As long as you meet the maintenance costs, you are free to sell, rent, or transfer ownership of the vacant property. There are few restrictions on purchasing a home. You can also buy Dubai property with bitcoin cryptocurrency.
Expats were unable to invest in Dubai real estate prior to 2002, but this has since changed, and buyers are no longer bound by any specific rules. Before going out to a neighborhood, check with a local agent to make sure it's not one of the few places you can't shop. The good news for expats is that purchasing real estate in Dubai is relatively simple: you don't need a specific type of residence to invest.
There is no requirement for a foreign buyer permit or any other regulations.
This simplifies the process and eliminates the need for any additional steps.
Although many properties in Dubai are sold as such, rental properties typically have lease terms ranging from 30 to 99 years.
What factors should you consider when looking for a home in Dubai?
As a buyer, you have a wide range of options in terms of houses, locations, and new construction.
Begin by browsing the market to create a shortlist of properties that you might be interested in.
View real estate listings on the internet.
Make contact with a local real estate agent or developer.
Visit the for-sale properties to get a sense of the neighborhood and layout.
Examine the neighborhood at various times of the day to assess traffic and noise levels.
Make a rough estimate of how long your journey will take.
Make sure the properties you've shortlisted have enough parking.
Some of these factors may be less important to you than others, but given the heavy traffic in Dubai and the lack of roads in some areas, it is always worthwhile to test your drives. Find out where the best places for expats to live in Dubai.
Real estate agents in Dubai, like in any other country, can assist you in finding properties in your preferred areas that fit your budget and preferences.
However, because most developments in the country are sold directly, it is also common to buy directly from a developer.
Collaboration with Dubai developers
If you decide to buy from a developer, do your homework before handing over your cash or signing a contract. Because different developers have different pricing structures, it's a good idea to do some research before signing any documents.
This is the most reliable way to ensure that you're making a good investment, and there are several ways to do so:
Request written confirmation of all fees and payment deadlines.
Verify that the developer is registered with the appropriate regulatory agency, and then double-check that registration for your protection.
Check the prices of comparable properties to ensure you're getting a good deal.
See what previous buyers have to say about their home by looking at previous developments.
Engage the services of a local attorney or one with international real estate experience. It's critical to be able to communicate clearly and ask all of your questions, so hiring an attorney who has dealt with investments is ideal.
Most of these precautions apply to real estate agents, in addition to checking your promoter's background. Before you invest your hard-earned money, double-check that they have the proper licenses and read reviews from previous customers.
Signing and sealing the contract
In general, homeownership in Dubai works the same way it does anywhere else. So, once you've found a property and agreed on a price, you can rest assured that the contracts will be drawn up properly, eliminating any potential for misunderstanding.
The transaction itself is quick, with a typical sale taking only 30 days from the time the purchase agreement is signed to the time it is completed. A letter of intent must be signed, as well as a deposit. The amount varies depending on the property's value, but a deposit of at least 10% of the property's value is required.
You will require the following items to complete your property purchase:
A valid passport is required.
Proof of residency status is required to prove that you are eligible to live in Dubai.
A copy of your most recent utility bill.
Paystubs(slip) or receipts to demonstrate a consistent income.
Statements from your bank account to prove that you can afford the investment.
Dubai property taxes
Dubai is known for having some of the world's most generous tax laws, and property ownership is no exception to the low-tax climate. If you take out a mortgage to fund your real estate investment, you'll also have to consider deposit, mortgage fees, and processing fees.
These costs typically include:
| | | |
| --- | --- | --- |
| Fee or Tax | Rate in AED (Arabic Emirates Dirham) | Approximate GBP Value |
| Mortgage Registration Charge | 0.25% of mortgage + AED 10 | 0.25% + £2 |
| Mortgage Processing Fees | Up to around 1% of the mortgage value | |
| Deposit payment | 10-25% of property value | |
Frequently Asked Questions on Purchasing Real Estate in Dubai
For expats looking for a new life in this bustling desert city, purchasing a dream home in Dubai is simple.
You can buy a house in 30 days if you follow a few simple rules.
Despite the fact that closing a deal is similar to buying a home in the UK, there are some common questions:
Q1: Are there any restrictions on the types of properties I can purchase in Dubai as an expat?
Some: You are free to buy the property if you have a Dubai visa or permit that allows you to live in Dubai. Although the old no-ownership rule still applies in some areas, most are now available on the open market.
Q2: What should I do if the purchase of a new home in Dubai goes wrong?
The Real Estate Regulatory Agency oversees the industry (RERA). So you can talk to them if you have any issues. It's also a good idea to hire a reputable attorney who is familiar with local real estate laws to ensure that you have someone on your side throughout the process.
Q3: Should I hire lawyers who have been recommended by the developer?
No. You require an independent attorney who is dedicated to you rather than one who is looking for a bargain. It may be a little more expensive, but it ensures that the sale is handled by someone who is on your side.
Q4: Is it difficult to obtain a mortgage in Dubai as an expat?
Applying for a mortgage in Dubai is similar to applying in the United Kingdom; the amount of loan you can get and the fees you'll have to pay are determined by:
The market value of the property you wish to purchase.
Q5: What is the amount of your deposit?
Your current financial situation, as well as your income and job security. Foreign investors will be able to get mortgages from the UAE's largest banks. It's worth opening a national bank account if you don't already have one to make the application process go more smoothly and to pay bills once the property is purchased.
Q6: Is it possible for me to rent a property in Dubai?
Yes, and unlike the United Kingdom, there are no additional taxes on second homes. If you decide to live on the property or rent it out as an owner, the land registry tax is a flat rate of 4%. There are no additional land taxes if you decide to live on the property or rent it out.
Q7: When buying a home in Dubai, why is parking so important?
It is not that there is no parking for very long, but the air temperature in Dubai is extremely hot in the summer, and it is easy to forget that you are in the desert. Cars that are not parked in covered areas are more likely to overheat, resulting in mechanical failure and the inability to drive until the temperature drops.
Q8: What are the owner's responsibilities in Dubai?
If you decide to rent out your home, you must register the rental agreement with Ejari because all contracts must be registered. This is then saved as a reference point in the event that you and the tenant have a disagreement.