Families can stay in either villas or apartments. People from all over the world go to the UAE to live. The Meadows Dubai condominiums are part of the Emirates living community. Near Sheikh Zayed Road junction 5, there are villas and various apartment hills. Dubai Marina, Burj al-Khalifa, Dubai Mall, Dubai Media City, and Emirates Golf Club are all within easy reach from here. The UAE Living Community offers a variety of additional developments throughout the United Arab Emirates. The Springs, The Parklands, and The Greens, as well as Emirates Hills, Palm Jumeirah Villas, Mudon, The Views, and Arabian Ranches Dubai 1, 2 & 3.
The Springs has a wide range of housing costs, from expensive luxury in Emirates Hills and Hattan to more affordable housing in The Springs. Villas in the meadows rent for a low price. We trade in over 1,800 mansions in the Meadows, which are bordered by historic tree-lined avenues and interesting small lakes, and have a children's playground, community pools, and a community Centre. It is one of Dubai's top real estate projects.
Meadows Villas for Rent in Dubai
Many real estate homes in Dubai cater to families by providing a wide choice of modern amenities and services. We have a variety of options for you, whether you want to rent or buy these villas. For a family adventure, there are plenty of restaurants, fitness centers, and cafés to choose from. To provide a comprehensive family life, there are several facilities such as schools, health Centre's, banks, supermarkets, and even a community's own specialized fuel station.
If you're a business traveller, Meadows Villas can whisk you away from Dubai's major boroughs like Sheikh Zayed Road and Al Khail Road in a matter of minutes, offering you convenient access to Downtown Dubai, Dubai Marina, and JLT.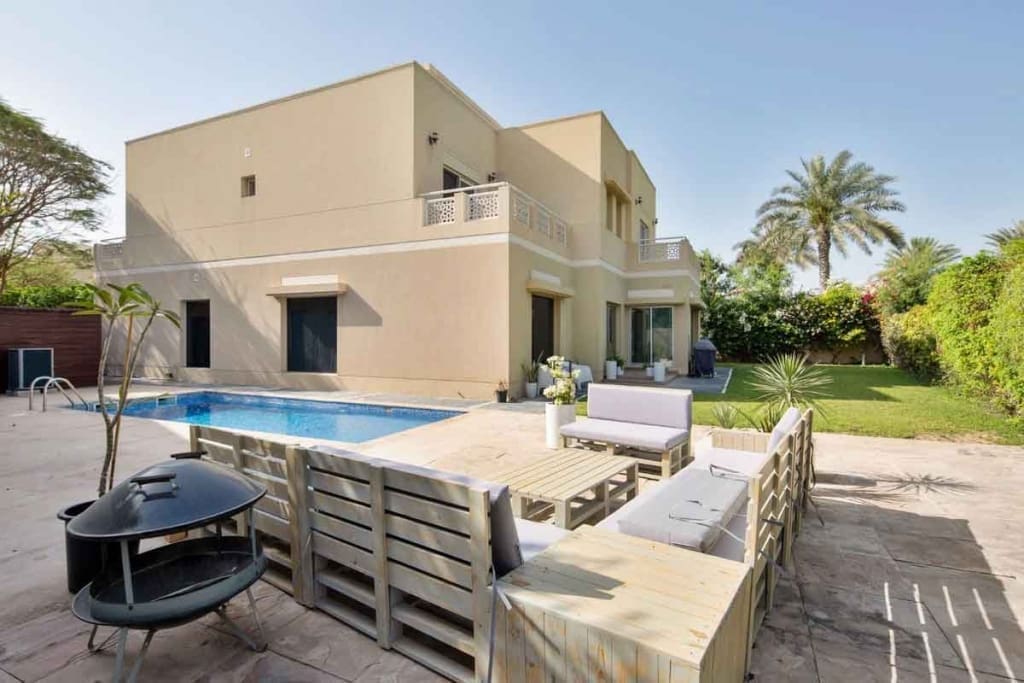 Villas for Rent with a Wide Range of Amenities
Meadows Dubai villas provide a large open living room with a mix of formal and casual lifestyles. Its architecture is adorned with a stunning dark marble floor that is complemented by solid wood complexity. The Meadows Dubai Villas are equipped with state-of-the-art kitchen and bathroom fixtures throughout. The villas' apartment on the main tier has four bedrooms, two of which are master suites, as well as terraces with views of the lake.
Meadows Dubai 5-Bedroom Villas for Rent
37600 AED per year in rent
There are five bedrooms and three bathrooms
3,400 square feet
Completely remodeled
Vacant on the market for rent
Excellent condition.
Only one row
Meadows Dubai 4-Bedroom Villas for Rent
AED 3,800,000 per year in rent
Property that will be rented for a long time.
There are four bedrooms & three bathrooms
Balcony
Wardrobes that are built-in
Parking is available in a covered area
Room for the maids
Garage with a private entrance
Meadows Dubai 3-Bedroom Villas for Rent
Property that will be rented for a long time
There are three bedrooms
There are two bathrooms
3,447 square feet
Balcony
Wardrobes that are built-in
Parking is available in a covered area
Room for the maids
Garage with a private entrance
Please keep in mind that the Meadows Villas are in various stages, therefore the price range varies. As the market matures from Type 8 to Meadows 2, the rentals vary. Call or email to us if you want to learn more about Meadows Villas in Dubai; we'll tell you what's best for you.