Everyone wishes to live in a secure environment. People spend a lot of money to have a safe place to live. For the Dubai residential class, the Mudon Villas community is a delightful safe marvel. Its secure property is derived from closed-society standards. Properties that provide a terrific sample of life in this delightful town. It is one of the most prominent residential projects in the real estate market. The Rahat mansion project, which is a sub-community for families that choose to live in a local neighborhood, is referred to as the excellent phase 1 of the Mudon houses. It provides a tranquil and private lifestyle and is ideal for professionals, families, and pet owners looking to live in a desirable villa community.
To best fulfil the demands of the occupants, the villas are designed with rooms that are displayed as distinct single and semi-detached residences. The Dubai villas for sale in this project may accommodate any family size that is suited for families, regardless of their size. The bedrooms are available in a variety of configurations, each with a magnificent, high-end bathroom. The majority of the homes were designed by a Spanish architect who brightened up a laid-back way of life. They also feature spacious balconies with fantastic views of the neighborhood.
The spectator was fascinated by the facades of these villas. The king-size windows with superb glazing guarantee that the house is well-lit and ventilated. Homeowners can choose from a variety of villa alternatives in Mudon, since it is a gated villa community in a prominent location in Dubai. We have a huge number of villas for rent in this area.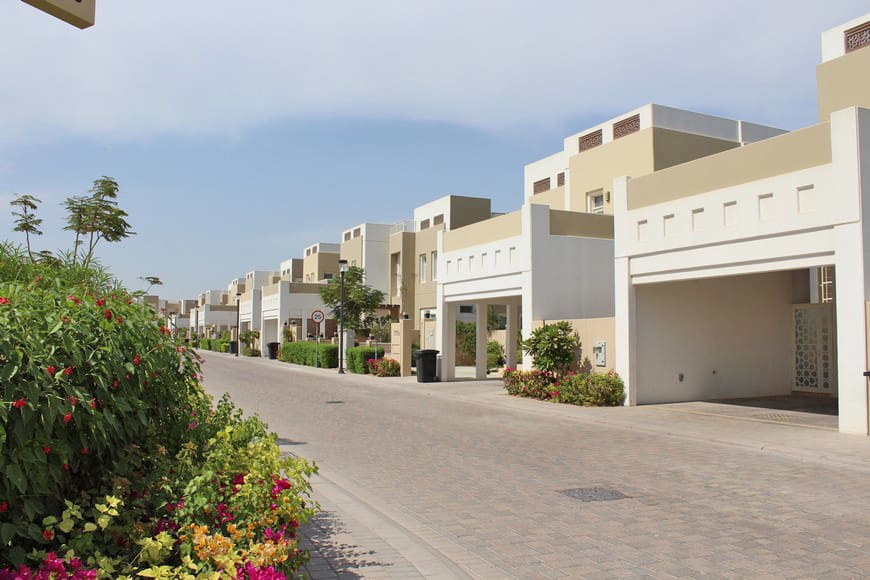 Mudon Villas for Rent
The majority of Dubai's residents are from other countries. Even foreigners are flocking to the outskirts of Dubai in search of additional houses to rent. To address the growing demand for villas in Dubai, we have erected a huge number of villas in Mudon. In recent years, the Mudon Villas community has been one of the most popular rental homes.
Services and Amenities
Mudon provides its citizens with an outstanding way of life. You will live a luxurious lifestyle with amenities such as:
Swimming pools, both indoor and outdoor
Parks are surrounded by security 24 hours a day, 7 days a week.
Salons
Gyms
BBQ
Dry-cleaning
Basketball Courts Football Fields
Supermarkets
Cafes and restaurants
Tracks for cycling and jogging
Mudon Villas Detail for Rent with 3 Bedrooms
Rent is AED79,999 per year
3 bedrooms, 4 bathrooms
1,733 sq. ft. of floor space
Villas are a type of property
Arabella is the location
Key Facilities
Covered parking
Maids Room
Balcony
Built-in Kitchen Appliances
Private Garden
Mudon Villas Detail for Rent with 4 Bedrooms
AED 100,000 a year in rent
Floor Area: 2,910 Sq. Ft.
Bedrooms: 4
Baths: 4
1 garage
Key Facilities
Balcony
Wardrobes that are built-in
Covered parking is available
Room for the maids
Mudon Villas Detail for Rent with 5 Bedrooms
AED 7,000,000 PER YEARLY RENT
Size of Villa: 4,679 sq. ft.
Plot Dimensions: 8,618 sq. ft.
Bedrooms:5
Bathrooms:6
Villa is a type of property
Parking:2
Key Facilities
Balcony
Appliances for the kitchen that are built
There is parking that is covered
Room for the maids
Garden that is all yours
Overall, Rahat Mudon is a family-owned villa complex that is applying for Dubai citizenship. Despite being removed from the city's hustle and bustle, it is easily accessible through Dubai's main metro lines and local transportation. Call us or go to our website, biayah.com, to learn more about Mudon's rental and buy options.
Pros of Living in Mudon
While the main advantage of living in the Mudon community is the proximity to various recreational facilities. You can enjoy the benefits of shopping, dining, and entertainment. Fortunately, several ride-hailing services are available to assist with your daily commute.
For those looking for a more traditional residential community, Mudon Dubai is a good choice. Mudon villas, apartments, and townhouses here are also competitively priced. Prices vary depending on the type of real estate you purchase, the number of rooms you opt for, and the amenities you want.
There are four sub-communities in Mudon Dubai. These include Arabian Ranches, which is next door to the city. Residents have access to a variety of schools, nurseries, and healthcare centers.
Residents in Arabian Ranches can visit the IMG Worlds of Adventure, Magic Planet, or the Global Village. If you want a more active lifestyle, you can visit the Trump International Golf Course, which is less than a ten-minute drive from the community.
Mudon community is also home to the Dubai Polo and Equestrian Club, which offers a wide range of sporting activities. In addition, there are several outdoor eateries and leisure centers to enjoy. Additionally, you can enjoy the convenience of a ZOOM supermarket, which is less than a ten-minute walk from the community. Although the location of the Mudon community is not ideal for those with young children, it is a good choice for families. There are numerous recreational facilities, including a children's playground, a community center with a swimming pool, and a salon. Most importantly, the community is very family-friendly. Moreover, if you are a foreign national, you may be able to enroll your kids in nearby schools.
Cons of Living in Mudon Community
It is challenging to navigate the city without a personal vehicle. Public transportation options are limited. However, do not worry; you can always use local ride-hailing facilities for your regular commute if you do not own a car.
The fact that the Mudon community is still developing should be taken into account. The neighborhood still requires the development of a few things, like parks as well as play areas. However, it will not be long before Mudon offers these as well.